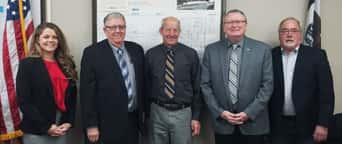 The Carroll County Board of Supervisors discussed a proposed resolution on Monday that would bring them some reimbursement on COVID-19-related expenses from the State of Iowa. County Auditor, Kourtney Irlbeck, says they recently learned they could apply for reimbursement for 25 percent of public safety salaries from the beginning of March to July.
Irlbeck says she is still doing some research on the Federal Emergency Management Agency's (FEMA's) reimbursement.
Supervisor, Dean Schettler, asked about the resolution containing a number higher than the $200,000 the board had previously approved. Irlbeck explains the total allowable grew after that salary inclusion announcement.
There are other unexpected expenses the county has related to COVID-19 Irlbeck says. For example, they would likely not have purchased a mailbox for placement in front of the building but did so because they needed a way for the public to conduct their day-to-day business in a safe manner. She will be seeking reimbursement for those types of expenditures as well. Schettler says he is concerned about the funds lasting if the pandemic does not ease soon. Irlbeck says this request is for a defined period.
She believes they will be submitting additional FEMA claims in October for their commitment to reimburse 75 percent of specific COVID-19 expenses through the CARES Act, such as Personal Protective Equipment (PPE), plexiglass shields and other safety and operational measures the county deemed necessary in response to the pandemic. The board unanimously approved the resolution.