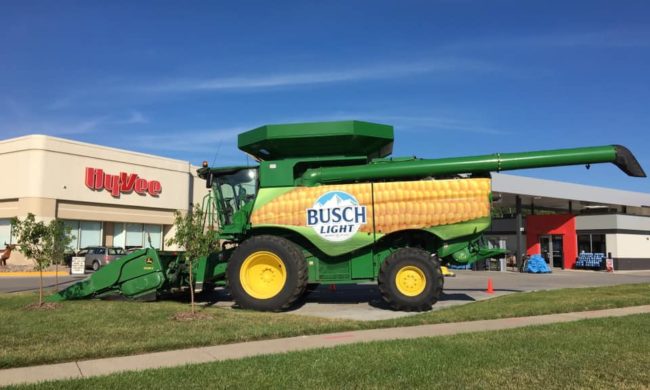 What's big and green and makes you thirsty? A giant John Deere combine that bears the emblem of Iowa's favorite beer, Busch Light. The traveling advertisement for the beer branded as using 100 percent U.S. grown corn in the brewing process is making the rounds in the area. Troy Auen, with Auen Distributing, Inc. of Carroll, says the idea started at a national meeting in Houston, Texas in January.
In April, another wholesaler in Omaha, Neb. found a company to wrap a combine and Auen Distributing was able to use them to wrap one belonging to Curtis Collison of Arcadia and the family farming operation. Collison talked over the idea with his partners, his sons, before giving it the green light.
The combine was wrapped at Van Wall Equipment in north Carroll and while sitting there, it drew a whole lot of attention. Their security cameras captured a large number of people stopping to take photos. It is currently sitting outside the Carroll Hy-Vee store in recognition of Busch Light Week. This next week it will be moved to Fareway for more deals. After that, Auen says the plan is to get the combine back onto the Collison farm.
Auen adds that there is nothing more "Iowan" than a combine with Busch Light on it, especially in Carroll County. Photos of the combine and a link to a Facebook Live Hy-Vee promotion with Carroll Broadcasting's John Ryan can befound below.
Facebook Live: https://www.facebook.com/937kkrl/videos/644594173149702