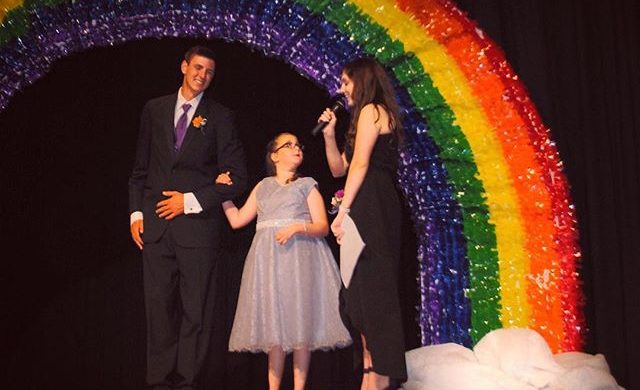 Next Saturday, July 20, will mark the 10th anniversary of an event that celebrates the creativity, talent and beauty of girls and women from all different walks of life. After winning in her class at the Little Miss You Can Do It pageant in 2008, Daleney Teske and her parents, Dave and Dayna, decided to add a few twists of their own and then offer the same opportunity at empowerment to others. Daleney, who graduated from high school this year, has Cerebral Palsy and wanted to give other girls with any disability their chance to shine. Dayna says it wasn't only about seeing a need for something like this to happen in Iowa, it was also about creating an experience for the entire family at the Dreams Made True pageant.
The weekend starts Friday, July 19, with orientation at the Carroll High School auditorium. Daleney says the girls and parents will all also get to meet their buddies, who will be helping them throughout the pageant.
Then Saturday begins bright and early with check-in, judge interviews and preparation for the pageant. Daleney says they will have several different clothing changes, beginning with denim and casual wear. Use of their imagination in the latter is encouraged.
Each contestant receives recognition from judges who applaud something personal about them. Trophies for the girls, five years old to 25, are presented to the top two finishers in each category: Little Miss, Junior Miss, Teen Miss and Miss. Dayna says that coordination of this event has become more difficult since the family moved to Minnesota over three years ago. She adds they couldn't do it without the 60 to 70 volunteers who come together to help out each year. However, they still need a few more for the upcoming event.
And even though the main goal is to empower other young women, Daleney says she has gotten so much more out of hosting the pageant for the past 10 years.
The competition portion of the pageant begins at 3 p.m. in the Carroll High School auditorium and the public is invited to attend, cheer on the contestants and then join them in a celebratory supper afterward. The Teske family is also hoping that with Dreams Made True taking place during Carroll's Sesquicentennial they will have more guests at the school and that the contestants can enjoy the city-wide activities. A link to contact the Teskes to volunteer for this year's pageant or register for next year can be found below.
___________________________________________________