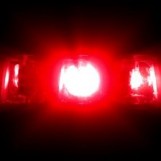 The danger posed by a substantial natural gas leak in Glidden has passed, and the southwest portion of town has reopened to the public. Glidden Fire Chief, Tom Weber, says the incident began shortly before 1 p.m. this (Wednesday) afternoon.
Fire departments regularly respond to gas leaks, but Weber says this was far larger and more hazardous than the ones they usually respond to.
Fortunately, that did not occur due to the quick response from emergency responders. In addition to limiting public access to the area, Weber says they took several other precautions to reduce the risk of a potential explosion.
Crews from Black Hills Energy were able to shut off gas to the high pressure line at approximately 3:45 p.m. The Carroll County Sheriff's Office, City of Glidden, Raccoon Valley Electric Cooperative, Iowa State Patrol and Iowa Department of Transportation Motor Vehicle Enforcement assisted at the scene.