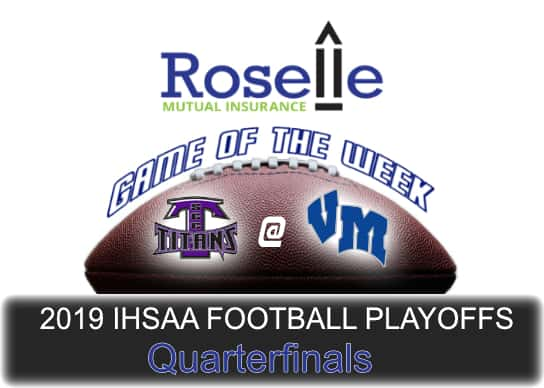 South Central Calhoun at Van Meter
Van Meter 10     South Central Calhoun 6
The Titans had missed opportunities on Friday night as they fall in the quarterfinals suffering their 1st loss of the season. Everyone knew this could be a defensive struggle and South Central Calhoun Head Coach Bryan Case said prior to the game that his team would need to force Van Meter into a few mistakes and take advantage of them. The defense played a great game but a tremendous season comes to an end for a team that proved they are as good as anyone in the state.
Van  Meter would strike first driving down the field late in the 1st quarter and setting up a 32 yard field goal by Zach Madden with 11:08 left in the half. The Titans got things going offensively. They outgained the Bulldogs for the game and had one of their more impressive drives that ended with a 3 yard run by Blake McAlister to make it 6-3. The touchdown was set up by a 4th down conversion by Brennan Holder. The Titans extra points was blocked and that would come up to hurt them later in the game.
Van Meter took the lead back late in the half on a 1 yard run by Dalten Van Pelt. The late touchdown gave them a 10-6 lead at the half. South Central Calhoun nearly cut the deficit down late in the half but a high snap and missed field goal left them down by 4 at half.
South Central Calhoun moved the ball in the 3rd but a long drive chewed up a lot of clock and came up empty. Van Meter was able to hold off South Central Calhoun the 2nd half though the Titans threated a couple times. The Bulldogs picked up a late conversion in the 4th and were able to run out the clock on their way to the win.  The Titans suffered their first loss of the season and will finish the year at 10-1.
Interview with Head Coach Bryan Case
South Central Calhoun Stats
Landon Schleisman 6 carries 41 yards
Brennan Holder 4 carries 41 yards- 9.5 tackles
Blake McAlister 4 carries 18 yards TD
Cole Corey 7-14 passing 76 yards
Chase Scheidegger 2 receptions 27 yards
Jayden Soard 12 tackles