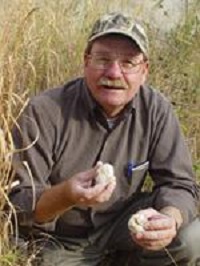 Following the recent sighting of a mountain lion in Des Moines, area residents may be interested in attending a lecture next week on Iowa's wild cat species from a former Iowa State University instructor and researcher. Dr. William Clark, an emeritus professor with the Department of Ecology, Evolution, and Organismal Biology (EEOB) will be at the Sac County Conservation Building in Hagge Park near Sac City tomorrow (Monday). He says many people are not aware that predatory felines have been a part of Iowa's ecosystem for thousands of years.
Clark adds that he loves to see the public interested in cat species in Iowa, but he says many people are more concerned than they need to be about the feline's presence. Monday's lecture only briefly covers pumas, and Clark says there is one thing you really need to know.
Clark will instead focus on species more commonly seen in Iowa, primarily bobcats. He says his lecture is designed to be engaging for experienced naturalists, yet still understandable to elementary-aged children.
The approximately one hour lecture begins at 6 p.m. on Monday, May 13 and is free and open to the public. Time will be set aside at the end of the presentation for questions from the audience.