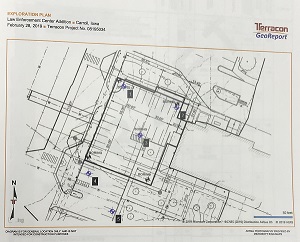 Mike Lewis and Phil Parrott with Shive-Hattery, an architectural and engineering consulting firm, were back in Carroll Tuesday morning for an update on the plans, specifications and estimated costs for the new Carroll County jail. Terracon, a Des Moines-based geotechnical firm, recently completed five borings on the proposed site to the west of the current courthouse, and the results of those were presented to the Carroll County Board of Supervisors and Sheriff, Ken Pingrey. Lewis says from those results, they try to look for around 1,500 pounds of compressive strength as a minimum.
In the summary comments, Terracon highlighted a couple of areas. The boring encountered about three to six feet of existing fill that is not native soil. This means some work has been done below the parking lot. That will have to be removed and ground improvements done on, likely, the entire area. Parrott says it is not unusual to run into this issue, but two to three feet is the norm. Lewis says there is one item in the report that supports the need for a full-site excavation.
Some supervisors believe that portions of the old courthouse may have been buried in that location. Lewis then discussed changes made to plans from their last meeting in February and the impact those have had in helping reduce costs. They were able to adjust the footprint by 2,350 square feet, down to 25,650 total. Lewis says this puts them at $9.15 million for the project, just a few hundred thousand dollars over the targeted $8.95 million. He says he is bringing this up now because he believes they will be easily able to hit that amount.
As the conversation continued throughout the meeting, more changes were suggested on the floorplan. Many of those present believe that the incorporation of those changes alone will have brought them back to the estimated budget or below, even before the contingency amount is lowered.