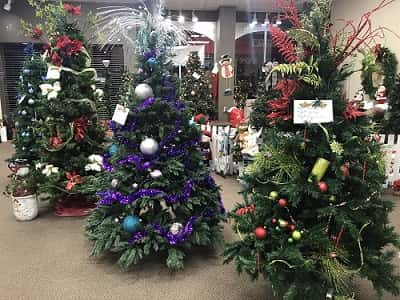 Christmas is just over six weeks away, and the New Hope Bargain Shoppes are getting into the spirit with the creation of a popup Christmas Boutique in Carroll. Thursday, Nov. 7 was the soft open for the temporary holiday decoration destination, and Marketing and Retail Operations Director, Sarah Foley, says they collected all their best holiday items and combined them at one central location.
Foley says the New Hope Bargain Shoppes have always had great Christmas selections, but the boutique is taking it a step further this year.
Foley adds they also plan to host a very well-known couple in the boutique as the holiday season approaches.
And just like the regular New Hope Bargain Shoppes, 100 percent of the proceeds go to support their mission of enriching the quality of life for individuals with disabilities. Foley notes their inventory is entirely sourced through donations, so their offerings change constantly. The full schedule for the New Hope Christmas Boutique can be found included with this story on our website
______
Thursday—10 a.m. to 6 p.m.
Friday—10 a.m. to 5 p.m.
Saturday—10 a.m. to 4 p.m.
Sunday—12 p.m. to 4 p.m.