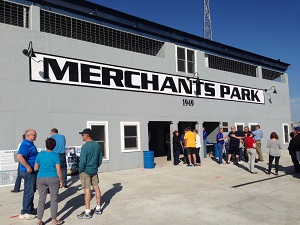 The first official day of spring is less than a week away, and that means the return of Merchants baseball to Carroll is just around the corner. The organization will be entering into their fourth season at Merchants Park following its refounding in 2015. Chris Whitaker, a member of the Carroll Athletic Association, says the team's fan-base continues to grow each year, and baseball is once again a staple of summertime in town.
The start of the season is still several months away, but organizers are already busy with preparations. This year's roster is estimated to be around 25 players, and as in previous years, they will be housed in local residents' homes. According to Whitaker, they are still in need of families willing to host. It can be difficult to open your home to a stranger, but he says almost everybody who has done so in the past had a great experience.
Whitaker says almost anyone can host, as long as they meet a few easy requirements.
Individuals interested in hosting a player can contact the Carroll Athletic Association through the information included with this story on our website. The Merchants kick off the baseball season at Merchants Park on Friday, May 31 against the Storm Lake Whitecaps.
______
Zoe Ruchti
830-9852

Jen Malik
790-9852