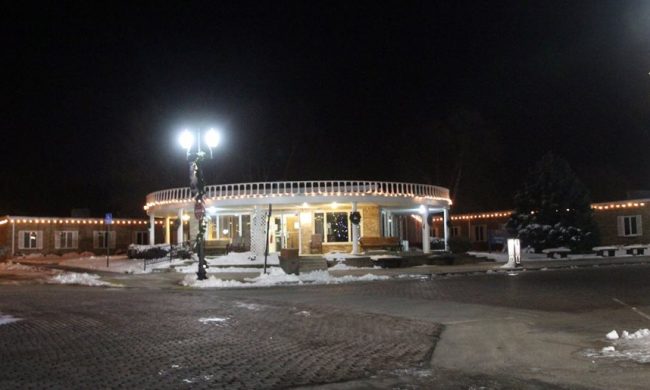 Please note the change of venue for this meeting–it will now be held at the IKM-Manning High School auditorium. 
It started with a series of email messages, and then a Facebook post by the Manning Chamber of Commerce on Sunday morning. Since then, concerned citizens from Manning and beyond have been talking about the possibility of the Manning Plaza closing down. This nearly 53-year-old Main Street fixture has been home to those seeking out some of the best long-term care in the entire state. But those involved say the message generated on Sunday is not a cause for panic, but rather a rally cry for everyone to come together and keep this nursing facility a viable option for area residents. CEO of Manning Regional Healthcare Center, John O'Brien, says the organization is seeing daily losses brought about by a couple of different factors.
Currently the 56-bed Plaza is home to about 30 residents. O'Brien says efforts have been underway for a long time to keep the Plaza open. Then discussions began several months ago with community leaders. They are now ready to take those discussions to the general public at the Thursday, Jan. 31 meeting at 6 p.m. in the IKM-Manning High School auditorium.
President of the Manning Betterment Foundation, Kevin Boyle, says the non-profit organization has hired a consultant to develop a plan and to identify sources of working capital that includes Tax Increment Financing support as well as money from other entities. He adds they are also looking at adding other service benefits for the residents and the entire area as a whole.
Boyle and the rest of the Betterment board definitely want to put out the positive message of a long future for the Plaza at Thursday's meeting. He says the community is entirely vested in this project.
Unfortunately, with the current state of healthcare, this is a situation being faced by facilities throughout Iowa. Boyle says that is why they are trying to be proactive in putting a plan together to weather through this storm and come out on the other side stronger than ever. As a healthcare professional, and on a personal level, O'Brien says they are not the "Lone Ranger."
Both Boyle and O'Brien have had conversations with our local legislators, urging them to address these issues now, before major statewide impacts result. O'Brien says there is a hope that their plan can be carried out within the next 90 to 100 days. He adds that Manning is a unique community, and he knows people won't just sit back and wish for something to happen. They will pull together and make it happen. Those with questions are encouraged to attend Thursday night's meeting.