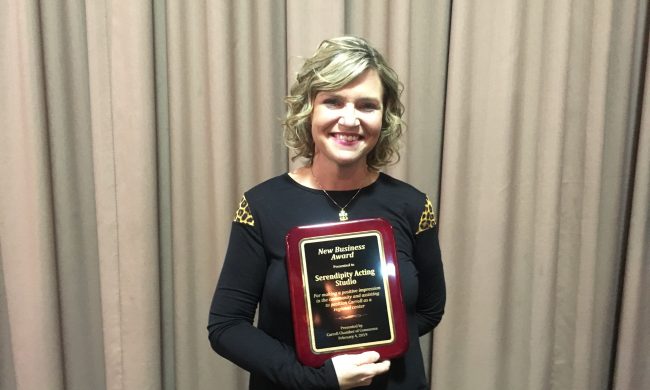 It takes a huge leap of faith to step out on your own and open a new business. This can be especially true of specific types of ventures when they are introduced to non-traditional locations, such as the rural parts of the state. Carroll has become home to just such a business, Serendipity Acting Studios. At Monday's Carroll Chamber of Commerce annual banquet, manager of the Carroll Bomgaars, Mark Nepple, told attendees the studio opened their doors in 2014, but continues to open doors for others.
Nomination letters for Sonia Walsh and her acting studio outline a personality that meshes well with so many, and a person who is encouraging others to step outside of their comfort zones, finding outlets that speak to who they are as individuals. Walsh has taken her own passion for the theater and ignited the fire in so many members of our local communities. Walsh jokingly asked if this was like the Oscars, where she would get to make an acceptance speech.
Walsh says she is not from Carroll, but came here almost 25 years ago, and she couldn't think of a better place to live and raise children. And, even
She adds, however, that she is a little bit Carroll County as her grandmother grew up in Glidden. Through her daily work, Walsh finds she has a fond reminder of the stories she heard from her as a child.
A live interview with Walsh and with many of the other winners can be found by logging on to our website at www.carrollbroadcasting.com. And tune in to 1380 AM or 95.1 FM KCIM Monday morning during the 8 a.m. news to hear from the Chamber's Public Service award winners.