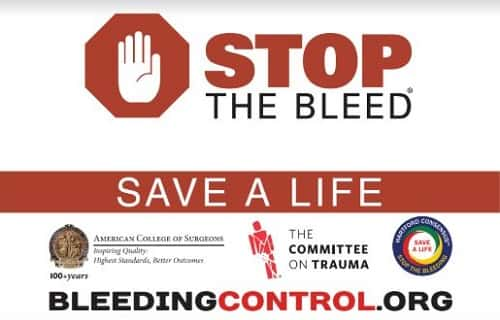 Carroll County Public Health is offering free seminars to local businesses and organizations that will teach them skills that may one day be used to save somebody's life. The "Stop the Bleed" program is a no-cost class, and officials are encouraging everybody to take advantage of it. Public Health Director, Marcia Schaefer, says bleeding is the leading cause of death after a traumatic injury.
Schaefer and Dr. Paul Greteman, with Family and Specialty Medical Center in Carroll, lead an approximately 60-minute session that provides simple steps to follow if you or someone you know experiences a serious injury. She says you do not have to be an expert to save a life.
Participants will receive hands-on experience and get to practice proper tourniquet application and wound packing as part of the seminar. She adds they will even come to your workplace or meeting for the presentation. Schaefer says the significance of this training is especially critical for our area.
To register for a free Stop the Bleed presentation, contact Carroll County Public Health at 712-794-5408.