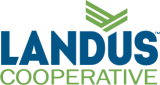 Ames-based Landus Cooperative is providing an update on the 2019 harvest. Vice President of Producer Grain Marketing, Tom Guinan, says they are working hard to address propane issues, keeping their supply in place and dryers running to help farmers with the wet grain coming from the late season. He says the issue with propane is both a supply and demand problem.
Guinan says they believe farmers are making good progress and what Landus is seeing is ahead of what is being presented in the weekly USDA Iowa Crop Progress and Conditions Report.
Landus is operating at special hours to accommodate the delivery of grain and Guinan says there are a variety of ways that the times and traffic at their various locations can be tracked.
A rumor about the Ralston location is also dispelled by Guinan. He says they ARE accepting corn at that location and the activity there can be tracked in the same manner as other sites. Guinan also says they want to thank the farmers and continue to wish them the best during a harvest they hope will be wrapped up soon. A link to the Landus website can be found below.
_______________________________________