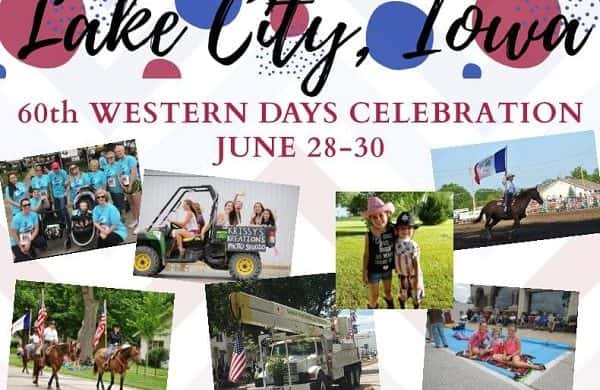 This coming weekend marks six decades of the Top Rail Saddle Club's Western Days Rodeo in Lake City, and organizers are planning for the event to be bigger and better than ever to celebrate the occasion. The fun gets underway Friday night with a youth pool party from 7 p.m. to 9 p.m. at the aquatic center and live music from the Jay Clyde Band from 8 p.m. to midnight in the town square. Lake City Betterment Director, Mackenzie Gorden, says activities continue bright and early on Saturday morning.
Most of the attractions will shut down around 3 p.m. to give everyone a break before the rodeo. Saturday's show begins at 7:30 p.m., immediately followed by a fireworks display and live music from Henry and the Haymakers, and then Big Daddy Addy takes the stage at the Wright Place. Gorden says the rodeo will appeal to veteran and amateur fans alike.
Gorden adds they have plenty of activities lined up for people not planning to attend the rodeo, including the vendor show on Saturday, which has more than 60 vendors lined up to attend and the Kenny Schleisman Memorial Tractor Pull on Sunday morning. Gorden says they have added a new event to Sunday's schedule this year: the First Annual Bags Tournament
Teams can register online or at Lake City businesses for $20 per pair. For more information and a full schedule of activities, visit the Western Days Facebook page, a link to which can be found included with this story on our website.
______
https://www.facebook.com/events/696768654059055/
Friday, June 28th
7 p.m.—9 p.m.:             Kid Pool Party (Ages 8-19) at LC Aquatic Center
8 p.m.—12 p.m.:           Jay Clyde Band/Street Dance at town square
Saturday, June 29th
            8 a.m.—10:30 a.m.:      Legion Breakfast at Community Building
8 a.m.—3 p.m.:             Vendors, Food Trucks and Inflatables Open
8:30 a.m.:                     Stewart Memorial Community Hospital Fun Run
9:30 a.m.—1:30 p.m.:   FREE Face Painting on the Square
10:30 a.m.—1:30 p.m.: FREE Pony Rides & Conservation Station on the Square
12 p.m.:                       Parade registration at Goins Park
1:30 p.m.:                    Parade starts
7:30 p.m.:                    Rodeo starts with Fireworks and live music to follow
Sunday, June 30th
8 a.m.—11 a.m.:           Top Rail Saddle Club Breakfast
10 a.m.:                        Second Annual Kenny Schleisman Memorial Tractor Pull
11:30 a.m.:                   Worship on the Square
12 p.m.:                       First Annual Bags Tournament at Goins Park
6 p.m.:                         Rodeo at the Rodeo Grounds
Confirmed Vendor List
Addison James Boutique
AJ American Pride
All Stacked Up
ART Love to Create
Bath Fitter
Bath Treats by Meridee
Blossom St Honey
Candies & More
Chamique Sliders
Chicken Coupe
CJ Crafts
Colby Creates
Color Street
Courtney's Creations
Damsel in Defense
Double M Concessions
Feed Shed Catering
Goodness From The Goats
Gorden's Garden
Hacsaw Forge & Design
Honey Hill Creative
House of Ceramics
ItWorks
Jeanne's Mixing Bowl Creations
K&E Beads
LeafFilter
Lil' Lucy's Boutique
LuLaRoe
Matilda Jane Clothing
Melissa's Frame of Mind
New Again
Norwex
Pampered Chef
Paparazzi
Party Time Mixes
Perfectly Posh
Pipe Dreams
PNB goodies-Bitzy Britches
Pruvit Ketones
Pure Romance
Rag Rugs by Denny D
Sara's Cupcakes
Scentsy
Sease Paw Spa
Shay's Country Creations
Simply Said
Simply Sweet-Premier Jewelry
Steeped Tea
Sweet Treats By K & B
The Craft Owl
The Soapy Goat Lady
Thirty-One
Touchstone Crystal By Swarovski
Traveling Vineyard
Tropical Sno
Tupperware
Turtle's Corner
Usborne Books
Vintage Pearl Apparel
Wilted Daisy Boutique
Woodlawn Church
Younique