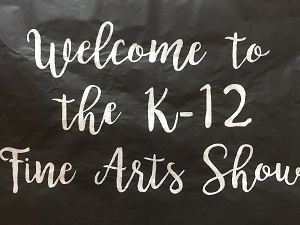 Kuemper Catholic Schools wrapped up a three-day celebration of their students' creative talents today (Tuesday) with the close of the annual K-12 Fine Arts Show. Beginning on Friday, April 26, the high school gymnasium was filled with original pieces from every student involved in at least one art class. Jodi Steinbach, the high school art teacher, says some of the students will receive special recognition.
The pieces remained on display into Tuesday evening, finally coming to a close with a band and chorus concert at 7 p.m. The incredible talent of these students is often overlooked, and Jeff Wicker, the high school vocal instructor, says that is why the K-12 Fine Arts Show was started.
It is a good time for the students as well. Maria Mohr, a sophomore in Arts II, says it is satisfying to see the fruits of her efforts on display.
Hundreds of pictures, paintings, pottery pieces and more were featured during the 2019 Annual Kuemper Fine Arts Show. Photos from the event can be found included with this story on our website.