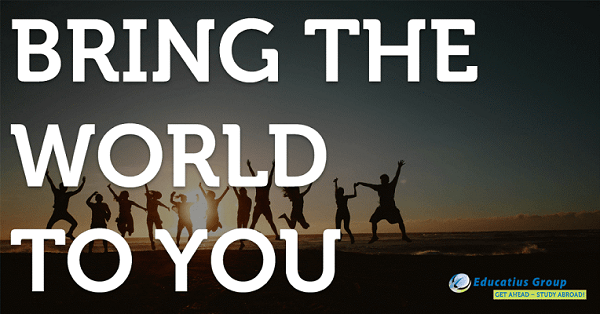 Kuemper Catholic High School (KHS) will be hosting several foreign exchange students during the 2019-20 school year and the organization facilitating their visit, Educatius Group, is searching for local families willing to host them during their stay. Since 2003, they have helped more than 6,000 students from over 60 countries attend programs in a variety of different places. Educatius Midwest Regional Manager, Rhonda Hofer, says one of her favorite parts of the program is how both the hosts and visitors benefit.
According to Hofer, the visiting group includes five teenagers: three boys and two girls. She says they all hail from countries in Europe and Asia, and they are looking forward to joining the Kuemper family.
While hosting a teenager may sound like an enormous task, Hofer encourages everyone to consider doing so. Hosts must be an English-speaking household, provide room and board, complete an interview and application process and pass a criminal background check. Most importantly, they must be willing to welcome these students into their lives.
Educatius also offers an orientation to prepare for the students' arrival, 24-7 support staff and a monthly stipend to help offset the cost of hosting a teenager. In addition to facilitating the program, Hofer has also brought several students in her own home. She says the toughest part is not welcoming a stranger into your family; it is sending a new family member home.
Educatius' local coordinator, Glenn Babb, will be offering informational sessions on Sunday, July 14 from 1 p.m. to 4 p.m. at the St. Lawrence Family Center and on Sunday, July 21 from 11 a.m. to 2 p.m. at KHS. Some frequently asked questions and Babb's contact information can be found included with this story on our website.
_____
Glenn Babb
712-210-1253
FAQs
Q: What is Educatius Group?
A: Educatius Group is an experienced and trusted organization, proud to be a leader in international education since 2003. We are the largest organization in the world dedicated solely to high school programs abroad. In the last year, we have welcomed more than 6,000 students from 60+ countries to academic high school programs worldwide.
Q: Where do your students come from, where is Educatius Group based, are you a truly global organization?
A: Educatius has 30 offices throughout 17 countries and 28 cities. We have offices throughout the world in the following countries:
USA: Boston
Canada: Toronto
Scandinavia: Norway, Denmark, Sweden, and Finland
European continent: Germany, France, Italy, Spain, and Austria
China: Shanghai, Chongqing
British Isles: London, Birmingham, Manchester, and Dublin
Australia: Melbourne, Sydney, and Brisbane
Vietnam: Hanoi and Ho Chi Minh City
Turkey: Istanbul
Brazil: São Paulo
South Korea: Seoul
We enrolled international students from more than 60 countries in 2018-19. Educatius Group Cooperates with more than 500 international partners recruiting students, and Educatius Group closely collaborates with over 2,000 school partners throughout the world
Q: Where do the students live while they are attending school at Kuemper Catholic:
A: My hope is that you will consider hosting a student. Currently, I am working within the community to meet local families that might be interested in hosting these brave, smart young children. The student will be arriving in Carroll in August. And we are still searching for those families in Carroll
Q: Why would someone Host an International Student
A: Hosting an international student is an incredibly rewarding experience! Families who open their hearts and homes to international high school students develop lifelong bonds and gain a better understanding of the world around them. Our students are enthusiastic about studying abroad in the USA, Ireland, UK and Canada. They are required to be proficient in English, as well as meet all the requirements of our partner schools. These students travel from diverse countries including Brazil, China, Turkey, Vietnam, Thailand, Norway, Italy and Germany
Q: What does it take to become a host family?
A: To ensure the satisfaction of our families and students, we have several requirements families must meet in-order to be eligible to host. In turn, we provide a variety of support to our families throughout their experience.Our Host Families Must: Live in an English-speaking household and provide a bedroom for the student with their own bed, desk and closet/dresser. Families must also provide three meals per day, complete an application/interview process and pass a criminal background check.Our Host Families Receive: An orientation to prepare for the students' arrival as well as 24/7 local and national support with an emergency hotline. Unlike our J1 competitors, we provide our host families with a monthly stipend per student to help offset associated expenses.
Q: Why should you become a host family?
A: Bring the world to you. Whether it's a dish you've never tried or a holiday you've never celebrated, welcoming an international student into your home will open a whole new world of experiences for you and your family! It's a lot like traveling the world without leaving the comfort of your home. You never know what kind of experiences you could be missing until they're right at your doorstep. Be the world to them. Young people around the world dream of studying in the USA, Canada, Ireland and the UK. Be a guide during their study abroad journey. With just a little love and support, you can be the one to make their dreams come true.  Grow Your Family. Welcoming an international student into your home is like gaining a son or daughter! The relationship you build with your student lasts a lifetime as you become their "home away from home." (Sometimes the best way to deal with an empty nest is to fill it back up!) Discover the Power of Diversity. It's hard to teach children important life lessons such as acceptance, tolerance and the power of diversity. Hosting an international student is a great way to fill your home with joy and laughter while also teaching your children that what makes us different can also bring us together.
Q: What types of families are eligible to host?
A: All types of families are encouraged to apply! There is no "typical" host family: families can have small or teenage children at home. They can be single parents, couples with no children, or people that have older children already outside of the home. Families shouldn't worry about being too busy — the more opportunity the student has, to experience your life, the better!
Q: How are students accepted and screened onto the Educatius Program?
A: Our students are between the ages of 14-18 years old, and they speak English. Before they're accepted into one of our programs, they must submit comprehensive applications with personal, academic and health records. All students must be accepted into a school prior to being matched with a family. They are fully insured with medical and other liability policies. During their program, students are required to maintain good academic records and performance.
Q: What happens if problem arise?
A: We have a lot of experience in placing students with families, and we provide extensive support throughout the year. We will try and work through adjustment issues that can be common. However, if the placement does not work out satisfactorily, Educatius assumes responsibility to move the student to another family.
Q: What resources are available for host families?
A: Local coordinators are your go-to resource while hosting a student(s) in your home. Reach out to your LC with any questions or concerns. LCs will check-in with you and your student(s) monthly. 24-Hour Hotline for Assistance. Our emergency hotline provides immediate assistance for our students and families should they encounter any challenges that our experienced staff can resolve.