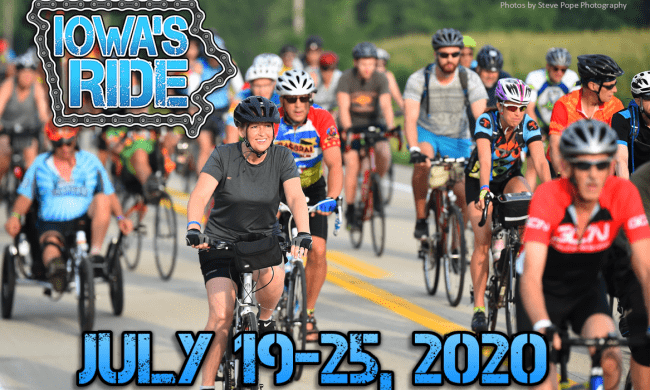 TJ Juskiewicz served for 16 years as the Director of RAGBRAI (the Registers Annual Great Bicycle Ride Across Iowa) until he and his entire staff abruptly resigned Tuesday, Oct. 15. According to Juskiewicz, this was in response to how a public relations firm dictated their ability to respond to riders. The firm was hired by the Des Moines Register in the wake of a story detailing racist tweets sent by social media sensation, Carson King, when he was just 16 years old. Juskiewicz said they were not allowed to uphold their first amendment principles in communicating with the RAGBRAI Nation about their future in the wake of the Register's troubles. At the same time, Juskiewicz also revealed plans for another statewide cycling event, Iowa's Ride. As the group travels to promote the ride that will be taking place the same week as RAGBRAI, they held a meeting Sunday in Ames. Juskiewicz said he thought it went very well.
Many people wanted to know the same thing: "What is this ride going to be all about?"
Juskiewicz said the main difference between Iowa's Ride and RAGBRAI is the giving back of all proceeds to Iowa charities. Half will be going to the University of Iowa Stead Family Children's Hospital, Carson King's charity of choice, and the rest going back to the host communities on the July 19 through July 25 northern route. Juskiewicz and his team will continue to travel around Iowa, answering questions and providing details about the upcoming venture. That route will be revealed later this month, but registration is open.
Juskiewicz said they already have a good number of people signed up. The week-long registrations will remain at a $25 discount through Dec. 31 and there is no lottery for this event. A link to the Iowa's Ride website can be found below.
____________________________________________