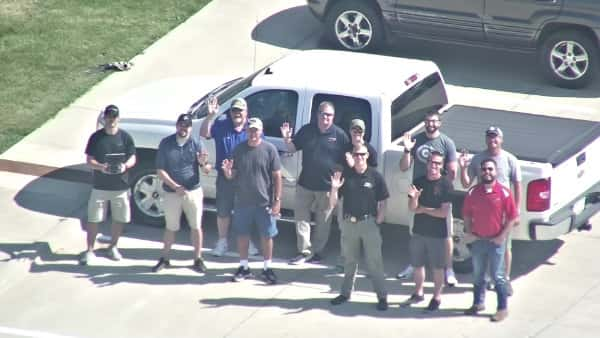 Photo of drone pilots (from left): BJ Schreck; Jeff Nichols; Louie Grote; Steve Hill; Tom Simmons, trainer; Jake Shirbroun; Sadie Hansen; Brad Warnke; Tony Amdore; Jeff Dentlinger; and Mike Wendl
Emergency Management funds have been put to good use as training has just recently completed on two new drones the organization has purchased. These will be available for use by all agencies and first responders in the county. Sheriff, Ken Pingrey, says 10 individuals had signed up to pilot the drones, and nine of those have already traveled to Ankeny to take and pass the Federal Aviation Administration (FAA) required test. According to Pingrey, the two drones will be used for different purposes.
The camera on that drone can read a license plate from a quarter mile away while it is hovering at about 400 feet above the ground. The uses for these drones are as varied as the situations that law enforcement and rescue workers face on a daily basis.
It could also help out if a person was barricaded in a building, providing opportunities to look in the windows or even deliver a cell phone to the person if they were willing to talk. The larger of the two drones has already been put into service a couple of times.
The second time it was used was Thursday afternoon as two men fled from an accident scene on Olympic Avenue. The camera was used to monitor their movements until a second officer arrived to assist. Video and photos can be taken and saved from the drone to be used for investigations and in court. Photos of the pilots and equipment as well as video from the drones can be found below.