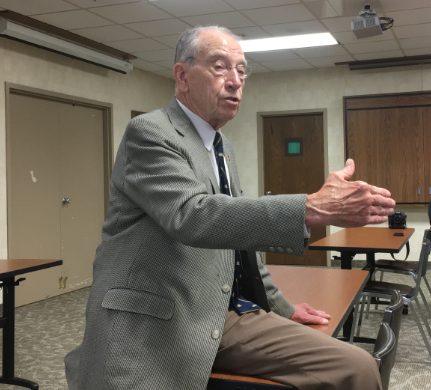 Senator Chuck Grassley toured Stewart Memorial Community Hospital (SMCH) in Lake City and met with constituents Wednesday as part of a 12-county, three-day tour of the state while the Senate is out of session for the Fourth of July holiday. Considering the meeting was held in a medical facility, the discussion naturally centered on healthcare. According to Grassley, the Affordable Care Act (ACA), more commonly referred to as Obamacare, has done almost nothing to slow the rising cost of healthcare. He suggests prominent Democrats are also starting to see this.
Grassley notes the opportunity to repeal Obamacare has passed, and he is instead shifting his focus to addressing the high cost of insurance and drug prices through legislation. Grassley says he is currently working on bills that will increase transparency in the healthcare industry and open the market up to generic drugs.
By increasing competition between drug makers and shining a light on how the price of medications, such as epinephrine pens or insulin, outpaced inflation, Grassley believes costs will be driven down. The future of rural, critical-access hospitals has grown increasingly uncertain in recent years. In just the last decade, at least 120 facilities have gone out of business nationwide. Grassley says steps are being taken to ensure places like SMCH, St. Anthony Regional Hospital and Manning Regional Healthcare Center (MRHC) remain viable.
While in Lake City, Grassley also discussed the ongoing trade dispute with China, the status of the United States-Mexico-Canada Agreement (USMCA) and the student loan debt. Carroll Broadcasting will bring you more from Grassley on these topics in upcoming broadcasts.