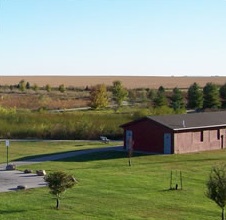 The City of Glidden is moving forward with a proposal for a multi-phase improvement project to Northland Park along U.S. Highway 30. During their meeting last week, the city council approved the first part of their plan. Thanks to a $75,000 Resource Enhancement and Protection (REAP) grant from the Iowa Department of Natural Resources (DNR), Administrator, Brooke Peterson, says recreational fishing will soon be available in town.
Phase one is anticipated to cost around $200,000. The city is contributing $50,000 in addition to the REAP grant with the remainder of the funding coming from various smaller grants. Peterson says this is likely just the beginning of the changes coming to Northland Park.
The improvements are expected to come in three or four phases. Next would be adding trees, a fishing pier and walkways in the park. The final phases would be a boardwalk loop around the pond and connecting trails to other areas of town. These final stages will be largely dependent on cost and how much funding is available from state and local sources. Peterson says Northland Park will be very different from the other recreational areas in town when finished.
Peterson encourages residents to complete the community survey if they have not done so already. She stresses public input will play a large role on what aspects of the project are pursued. A link to the online survey can be found included with this story on our website.
______