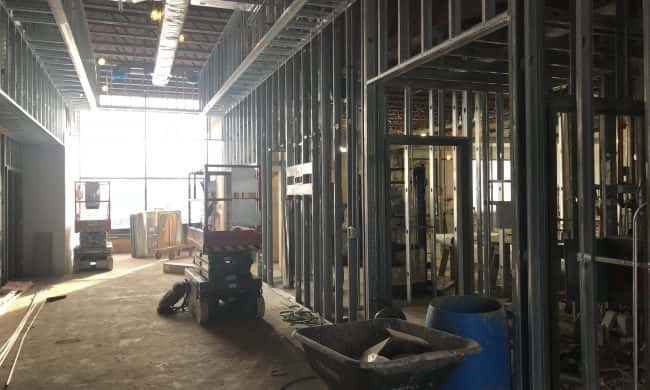 The finished product of what will be the new Carroll City Hall is taking shape as drywall goes up and a structurally necessary shoring up took place during this past week. City Manager, Mike Pogge-Weaver, led a tour of the former Commercial Saving's Bank building on North Adams Street, and during that he pointed out a previously unforeseen issue that necessitated a change to the front façade of the building.
A massive beam, that needed to be installed on the southern side of the building, over the council chambers, had not been placed at the time of the tour, but contractors were able to get it placed later that day. Even though the new chambers is a little smaller than those in the Farner Government Building, Pogge-Weaver explains how they will be able to accommodate more people during meetings.
They are also installing seating and a television in the hallway.
Steel studs are in place, outlining the two separated areas on the main corridor that runs the length of the building. This, he says, will allow them to have accessibility to the chambers and rest rooms for meetings on the south side while still being able to secure the offices on the north. There is a centrally located service window for city employees on that north side, along with a u-shaped configuration of offices, storage and general purpose areas in the center.