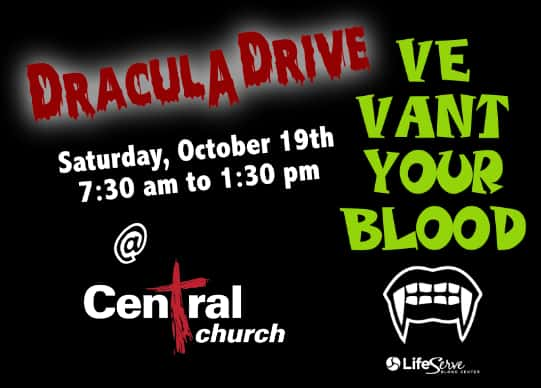 It's our 3rd annual Dracula Drive with the Lifeserve Blood Center, Saturday, October 19th, from 7:30 am to 1:30 pm!  This year we will hold our blood drive at Central Christian Church located at 24336 HWY 30 East in Carroll.  You can schedule your appointment online CLICK HERE (if you don't already have an account you will need to create one for free) or call 712-792-4321.
The first 100 donors receive a free 3rd Annual Dracula Drive T-Shirt!!!
To date, our blood drives have made a HUGE difference with close to 900 lives affected by these blood donations, and over 100 first time blood donors volunteered. Those are FANTASTIC numbers, and something the Lifeserve Blood Center doesn't see in communities our size!!
Give us an hour of your time/blood and you will be saving lives!
Lifeserve Blood Center serves ALL our local hospitals, so we want to see everyone turn out, roll up their sleeves and donate a pint!!!
Helping to support our Dracula Blood Drive is:
Haley Equipment
Commercial Savings Bank
Scranton Manufacturing
New Way Ford
Mid-Iowa Insurance & Real Estate
The Barn Owl
Lenz Insurance & Remax Professionals Realty
Carroll Bowl
Team Auto Group
Sommerfeld Outfitters
Mt. Carmel Mutual Insurance
The Piranha Club
Collins Aerospace
Dog Spaw
Poochies Playhouse
JP FLooring