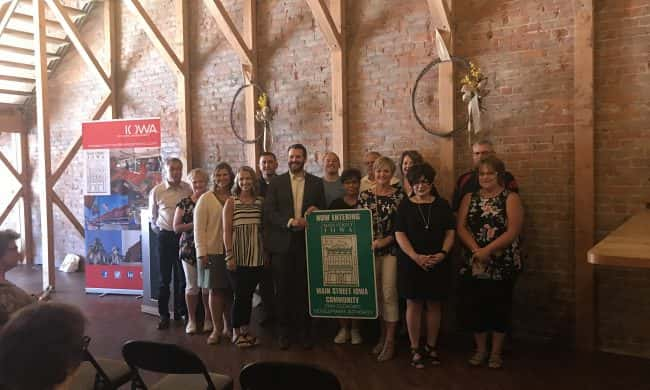 On Tuesday, members of the Main Street Iowa program and their parent organization, the Iowa Economic Development Authority (IEDA), brought a major announcement to the City of Coon Rapids with a designation as a Main Street Iowa community. Mayor, Jeff Anthofer, says this was the result of a lot of hard work from many community members and leaders over a significant time period.
In the fall of last year, 15 volunteers came together with a single focus on the downtown revitalization, and Anthofer thanked them all for their efforts. Director of the IEDA, Debi Durham, was in attendance for a personal, official welcome.
She says many people around the country don't think of Iowa as a place for cutting-edge careers combined with those highly sought after quality-of-life benefits. However, Durham says, Coon Rapids is already challenging that norm.
Main Street Iowa Coordinator, Michael Wagler, also congratulated the community, telling residents and leaders this is an immense accomplishment and the first step toward revitalization.
Coon Rapids Community Coordinator, Katie Mason, says the vision she and the committee have that goes along with this designation is really about a new energy in downtown Coon Rapids where there are things to do and an excitement level that creates a place where people want to spend time. They want the people who visit Whiterock, for example, to venture onto Main Street. They want the residents to say that Coon Rapids has everything they need. Mason, who has now been in the coordinator position for about a year, says the next step will be a comprehensive survey for residents to help identify their wants for the future. Details about the survey and how to access it will be coming in a future broadcast.