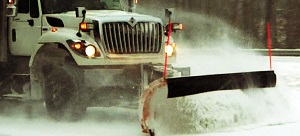 We are definitely in for a snow event today and tonight (Friday) and the City of Carroll has been busy the past couple of days preparing for this eventuality. Director of Public Works, Randy Krauel, reminds Carroll residents about the snow ordinance and the expectations during and after snowfall. First and foremost is removing vehicles from the streets as this greatly hinders the plows' abilities.
City crews have been out pre-treating the roadways, and though some drivers aren't happy about getting the salt brine on their vehicles, Krauel says it has proven nationwide to be both cost and operationally effective.
He says they will go through around 1,500 to 2,000 gallons to prepare for this weekend's snow. He says the streets in Carroll are separated into priorities, and the crews will work to clear based on those levels, starting with "first priority streets."
First priority streets are kept open during the snowfall, and generally, they work on residential streets after the snow has stopped. And even though this forecast falls on a weekend, Krauel says city workers will be putting in the hours necessary to keep Carroll streets open.
Currently, the National Weather Service has issued a winter storm warning for parts of Carroll, Greene, Audubon and Guthrie Counties and a hazardous weather notice for Sac, Calhoun, Crawford and parts of Carroll, Greene Audubon and Guthrie Counties. Stay tuned to your Carroll Broadcasting stations for storm updates.