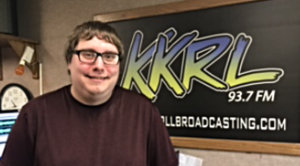 Twenty-two-year-old Nic McDaniel of Carroll came out publicly as gay when he was 17 years old and says most people did not know until he told them. And though nobody had anything negative or derogatory to say about his declaration at that time, he says he can imagine that this same announcement would have been received much differently in the not too distant past. He thinks about this as the nation recognizes the 50th anniversary of Pride and he works to bring the first Pride celebration to West Central Iowa next week. McDaniel says even 20 years ago, he may have thought twice about telling others.
McDaniel says this is one of the reasons he has devoted every minute of his free time to forming the West Central Iowa Gay Straight Alliance (WCIGSA) and organizing Carroll's first Pride festival on Saturday, Aug. 31. It is not only about celebrating who we are, he says, it is about helping people.
Fundraising has been taking place year-round for the Graham Park festival, and it is designed to be a family-friendly event.
The day will start with children's programs featuring Disney characters and songs and a story time at 11 a.m. Performers will be on stage all day, until about 7:45 p.m., at which time there will be a speech on the 50th anniversary of Stonewall, which sparked Pride, and then Rev. Cindy Johnson with St. John Evangelical Lutheran Church will lead an hour of worship from 8 p.m. to 9 p.m. McDaniel says a last minute occurrence had them adding some special recognition to a young man from Whittemore that was not on their radar originally.
To date, the ideas for Carroll's first annual Pride festival have been well received. But, McDaniel says for the first time since he came out five years ago, he has heard something negative.
McDaniel says they really had expected this, but they are dedicated to shining a light on their community within the community. He says we have Carrollfest, but there is nothing to celebrate or help others in this area with their personal journey. The long-term goal is to form a 501(c)3, continue to host this annual event and one day, in the next couple of years, to open a youth center. More information on Carroll Pride and a listing of events and vendors can be found at the West Central Iowa Gay Straight Alliance Facebook page.