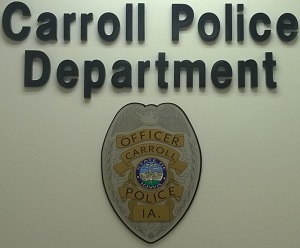 Today (Friday) is the first day of school across the entire region, and Carroll Police Chief, Brad Burke, says the next week or so will be a very busy time for members of his department.
Major construction work on Grant Road for the city's trail project is wrapping up and there could be some delays or equipment still in that area between Fairview Elementary, the High School and the Middle School. Burke says they are also conducting a Governor's Traffic Safety Bureau Special Traffic Enforcement Program (sTEP) that brackets the first day of classes.
Not only do drivers need to look out for the buses, kids on their bikes and walking to school, but there are many students who are behind the wheel, responsible for getting to class and related activities on their own for the first time. A school permit has some specific restrictions that Burke says the kids and parents need to be aware of and follow.
Burke has some final words of advice for all people traveling around the different school locations for the Carroll Community School District and the Kuemper Catholic School System. It's that time of year, he cautions, slow down, pay attention and watch for pedestrians.