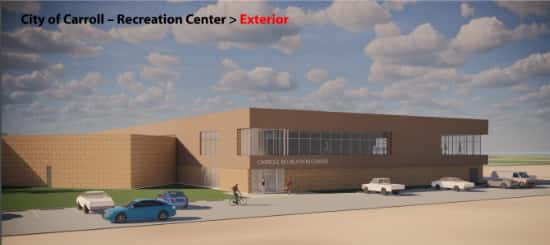 One of the first orders of business for the Carroll City Council at their Monday, Dec. 9 meeting, according to City Manager, Mike Pogge-Weaver, will be to recognize two volunteer firefighters.
Included in the consent agenda for the meeting is also a consideration to approve a Professional Services Agreement with Impact 7G for work being done on the former City Apartments. The city acquired the property this fall after it was deemed a dangerous structure and they are moving ahead on demolition.
There will be discussions on an amendment to the Water Supply Wells ordinance, additional street lights on 30th Street between the 500 and 800 blocks, design services for pickleball courts and modifications to the U.S. Cellular water tower equipment. The big ticket item will be the continued conversation on the Carroll Rec Center building improvement plan. Pogge-Weaver says the council has until Jan. 13 to decide if they will go to a March 3, 2020 referendum vote. They will also need to identify which improvements they will elect to have completed first. Al Oberlander, with RDG Planning and Design, presented several options at their last meeting. The first was for the entire project with a 2021 completion date.
With associated fees, this came to nearly $13.39 million. The second is to do the locker rooms and gymnasium in 2021 and the pool in 2024. This would break the costs into two segments; over $6.97 million for the first leg and just under $8.95 million for the pool construction. The third option is to complete the locker rooms and pool in 2021 and the gymnasium with elevated walking track in 2024. This is estimated at just over $9.6 million for the first phase and nearly $5.89 million for the second. All details on the presentation are included in the meeting packet link below. Monday's meeting will convene at 5:15 p.m. in the council chambers at City Hall.
http://www.cityofcarroll.com/Uploads/agendas-minutes2019/CouncilAgendaPacket120919pack.pdf