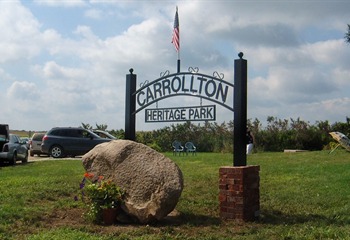 Photo courtesy of Rosemary Paulsen
The biennial Old Settlers' picnic, which commemorates the history of a Carroll County town no longer found on the map, is scheduled for later this month in Coon Rapids. Rosemary Paulsen, who has helped organize the event for many years, says it is an opportunity for people to come together and celebrate the history of Carrollton.
Not much remains of the former county seat today, but Paulsen says the small community was once the center of activity for the region.
The only physical remnants of Carrollton left are the steps to the old schoolhouse, which was torn down several years ago. Individuals interested in learning more about Carrollton and enjoying its history are invited to the potluck picnic at Park View Assisted Living in Coon Rapids from 11 a.m. to 2 p.m. on Saturday, Aug. 24. Paulsen says there is no cost to attend and most of the food will be provided. However, she encourages people to bring some of their favorite dishes for others to enjoy. Paulsen says she has offered tours of Carrollton in the past and is willing to do so again this year if people are interested.
The remains of Carrollton can be found approximately seven miles south of Glidden near the intersection of 280th Street and Sycamore Avenue. Paulsen will provide transport for people wanting a tour following the Old Settlers' Picnic. To RSVP for the potluck or to sign up for a tour, contact Paulsen by phone at 712-999-2446 by Friday, Aug. 16.