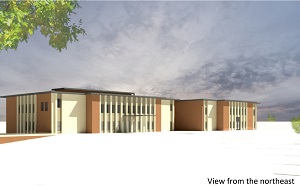 The Carroll County Board of Supervisors opened bids for the jail project Thursday afternoon, and all that were submitted came in well over the estimated $8.95 million price tag. District 5 Supervisor, Rich Ruggles, chaired the meeting and explained how they would progress through unsealing the bids.
The board received bids from four construction companies: Sampson Construction, Steffes Construction, Woodruff Construction and Badding Construction. Before opening the bids, Michael Lewis, a representative from architectural firm, Shive-Hattery, checked to ensure each bid was properly submitted.
The submitted bids met the supervisors' requirements, with prices ranging from just under $11 million up to $12.7 million. Badding Construction submitted the lowest base bid at $10.93 million, nearly $2 million over the original estimate. Each bid included five alternate bids, one of which included the cantilevering of entry and exit doors for a lower-level parking garage off of Main Street, which was discussed at length at a recent Carroll City Council meeting. The cost for these doors to be recessed will add between $38,000 and $58,000 to the project. The supervisors received no comments from individuals in attendance, and the meeting was adjourned. The board did not comment on any of the bids and indicated they would be discussed at their next regularly scheduled meeting on Monday, Aug. 19 at 9 a.m. at the Carroll County Courthouse.