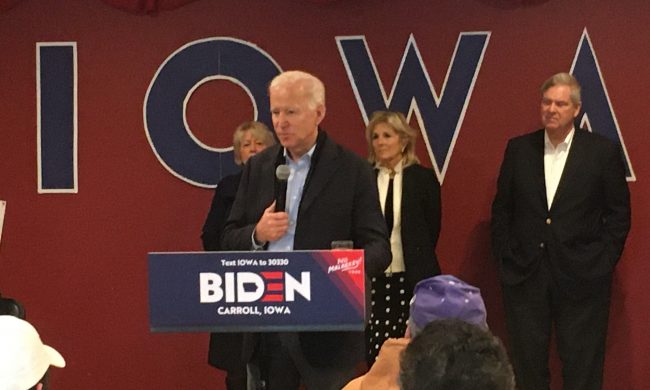 Democratic Presidential Candidate, Joe Biden, is sharing his plans to revitalize rural economies as he travels through Iowa on his eight-day, 18-county "No Malarkey" tour. The tour kicked off Saturday with stops in Council Bluffs and Denison, and Biden started his second day speaking to a crowd of approximately 150 people in Carroll. According to Biden, America cannot afford to allow rural areas to continue struggling because they make up the backbone of our nation's economy.
Biden's plan to revitalize rural economies promises to strengthen the ag sector by pursuing favorable international trade policies, investing in net-zero emission farming practices, expanding wind and solar energy and setting aside at least $20 billion in federal funding to expand broadband access in rural areas. Biden says opportunities should exist for every American, regardless of where they call home.
Former Iowa Governor and U.S. Secretary of Agriculture, Tom Vilsack, is traveling with Biden on his tour. He says Democrats are fortunate to have so many qualified candidates running, but Vilsack and his wife, Christie, have put their support behind the former vice president.
Rich Stoffers, a retired educator, says Biden's message will likely resonate with Iowans, but he is unsure it will sway caucus-goers.
The "No Malarkey" tour continues through Saturday, Dec. 7 with stops in Storm Lake, Spencer, Mason City and more. Full audio from Biden's Carroll visit can be found included with this story on our website.
FULL AUDIO: