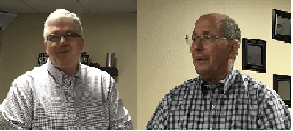 The proposed Chinese tariffs have many industries speculating on the impact it will have on the nation's economy. But on a more local level, state leaders are voicing opinions on what we will see happen with the rural economy from the agriculturally-related tariffs. Two gentlemen who are vying for the Republican nomination to run for the Iowa Secretary of Agriculture seat, Ray Gaesser and Senator Dan Zumbach, talked tariffs while in Carroll campaigning. Gaesser says he is afraid the uncertainty that was created in the late 1970s and early 1980s with Russian trade restrictions is recurring.
Gaesser says we need to work at being seen as a reliable supplier, but the changes over the years may have other nations viewing us as more of a residual supplier instead. He points out a big difference between the two.
He adds that it is hard to win that status back and believes we need to clean up those negotiations quickly so that we are not put in that position. Zumbach takes an alternative view, saying that he would like to see President Trump be successful in this strategy.
He says agriculture has learned to be patient and believes there will be a positive outcome when President Trump is successful.
As Secretary of Agriculture, Zumbach says a platform is needed that promotes production agriculture and gives producers tools and education to elevate their game. He says education is the key component to him, both inside and outside the industry. Both Gaesser and Zumbach are on the ballot for the June 5 Republican Primary. They are joined by Chad Ingels, Craig Lang and current Secretary of Agriculture, Mike Naig.