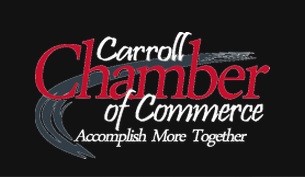 The Carroll Chamber of Commerce is hosting their Annual Banquet on Monday night. Rosanne Nees, Chamber Business Development Director, says she loves that day of the year.
Mike Franey, the 2016 Chamber Citizen of the Year, will be returning by popular demand as the host for this year's banquet, and Nees says that no new awards have been added this year. The Carroll Young Professionals (CYP) introduced the Young Professional of the Year award in 2017, and will be giving out their second one on Monday night. Nees says that the banquet has been a long-standing tradition, but the awards have been brought in as the years have passed.
Nees adds that they can't always keep the recipient in the dark about their pending award, but she promises that there will be quite a few surprises in store for everyone this year. The banquet will be held in the Carrollton Centre Ballroom from 5:30 p.m. to 8:30 p.m. Last year's winners included: Carroll County Fair President, Jim Mohr, who received the Good Neighbor Award; the Humanitarian Award went to All String's Attached's Becky Windschitl; New Business of the Year was awarded to GehlPro Welding's Pat and Sue Gehling; Commercial Savings Bank received honors as the Heritage Award winner; Michelle Sturm was named Young Professional of the Year; Randy Krauel received the Public Service Award; and C.J. Niles was presented with the Citizen of the Year Award.