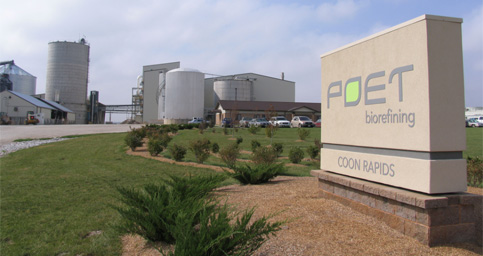 On Tuesday, President Donald Trump is expected to travel to Iowa, stopping in Council Bluffs. One of the items many Iowa leaders are hoping will be on his agenda will be an announcement that the government is lifting the ban on year-round sales of E15 fuels. General Manager of the POET Biorefinery Plant in Coon Rapids, Bill Howell, says the reasoning behind limiting sales through the summer is based on antiquated Environmental Protection Agency (EPA) regulations.
Howell says the direct benefit from granting a waiver for year-round sales is economic.
POET likes to buy directly from farmers, with the majority of their corn coming from local producers and the rest purchased through commercial grain elevators. Howell says E15 is part of the evolution of ethanol, and they are learning more about the benefits of E15 and higher blends, both for the consumer and the environment. E15 increases the consumption of corn by about 2 billion bushels per year, and Howell says it is a high-performance biofuel that is actually good for your engine.
Howell recently traveled to Washington, D.C. and to China on behalf of the ethanol industry. In Washington, he was there primarily to talk about year-round blend capabilities and to help educate the country's leaders on the product and the process. During the trip to China, he was acting as Vice President of Iowa Renewable Fuels and the group was able to meet with the ambassador, former Iowa Governor, Terry Branstad. Howell says Branstad is still very sensitive to what is happening with the farmers and the ethanol industry here in Iowa. The group discovered that China is mandating a move to using 10 percent blend in all of their fuels across the country by Dec. 1, 2020. In order to do that, they will need to build new facilities and Howell believes they will need to import both ethanol and corn. Howell says even if the legislature comes through with approval of year-round sales of E15, they will continue to work with the administration on proactive legislation and are ready to maximize opportunities when trade issues are settled.