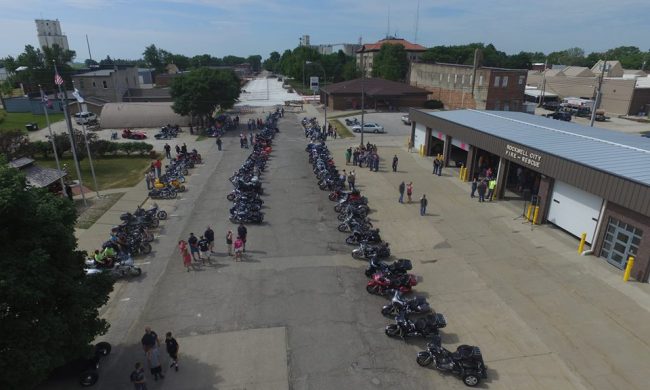 On this third weekend in June, area residents turn their attention to a special event that is designed to honor, remember and support the everyday heroes in our local communities. On Saturday, June 16, every type of transportation imaginable will be gathering at the Rockwell City Fire Station to head out at 11 a.m. for the fifth-annual Hometown Heroes Memorial Ride. Organizer, Mike Roller, explains how the ride and fundraising event originated.
And unfortunately, in 2017, they added another hero to that list after Rockwell City native and Urbandale Police Officer, Justin Martin, was killed in the line of duty on Nov. 2, 2016. Another committee member, Todd Richardson, says that they see pretty steady participation, at about 300 people joining in with a motorcycle, car, van, truck or party bus. Roller says this tribute ride is open to anyone and everyone.
The trip from Rockwell City, Sac City, Breda, Templeton, Guthrie Center, Churdan and on home is different than most of the typical poker runs, as Richardson says, the whole day is designed to be family-friendly.
There is even a special route designed for two-wheel, man-powered vehicles. Richardson says bicyclists are invited to join Tour de Force.
Bicyclists will be riding from Rockwell City to Sac City and then back. Following the day's ride, there will be a dinner along with live and basket auctions in the air-conditioned Expo Building at Rockwell City Park. Registration is $25 and will begin at 10 a.m. Saturday morning at the fire station. More information can be found through the contact points included below.
__________________________________
Hometown Heroes Memorial Ride Facebook Page—includes auction items–https://www.facebook.com/hometownheroesmemorialride/
Tour De Force: www.tourdeforceny.com
More information on the ride, auction or registration, call:
Todd—515-571-2512
Jason—515-571-1697
Or email: HHMRIDE@gmail.com