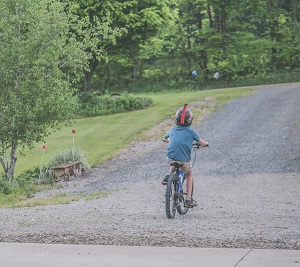 A new program put on by the Coon Rapids Development Group is rewarding kids for practicing safe behaviors on the road with frozen treats. The program is an extension of a Bike Rodeo held at the Coon Rapids-Bayard school on July 3 that focused on teaching children how to travel around town safely. Community Coordinator, Katie Mason, says they have enlisted the help of public employees to watch for kids using those safe habits.
Bikes, scooters, mopeds and other similar devices are the primary mode of transportation for kids on summer break. Mason says there are many ways to make sure they get to their destination safely.
After a child is recognized for practicing road safety, Mason says they can use that award to get a free ice cream.
Employees will be on the lookout throughout the summer, and Mason adds she hopes that every child earns a reward. The Bike Safe Program was made possible through support from many Coon Rapids businesses and organizations. A list of those sponsors can be found included below this story.
______
Sponsors: POET Biorefinery, New Way Ford, Hardware Hank, Community Insurance Agency, Coon Raids Insurance and Real Estate, Annunciation Catholic Church, Ascension Lutheran Church, United Methodist Church, Trinity Lutheran Church and Whiterock Conservancy
Bike inspections provided by: Carrick Body Shop, Lloyd Repair and Resurrection Rides.