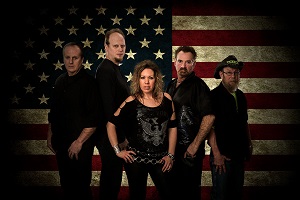 A few familiar faces from a former local band, the Full Blown Woodies, have regrouped, and after only two years, are landing some pretty big bookings. Bill Brown of Glidden, lead and rhythm guitarist, keyboardist and singer, along with drummer, Bobby Carter of Glidden, and bass guitarist, Al Lohr of Lohrville have been joined by lead singer, Leah Preul of Arcadia, and lead guitar player, Rod Bramble of Newell, to form Wild Ambition. They have a full summer of gigs booked, most notably one coming up at the end of this month as they open for ZZ Top at Shellabration in Fort Dodge on Saturday, June 30 to an expected crowd of around 10,000 people. Brown says they have been working on getting onto that ticket for the better part of a year, after a conversation with organizer, Jim Reed.
Brown and Preul say they cover songs that other bands are not necessarily doing.
One of the ways Wild Ambition is preparing for Shellabration is by playing live at some local venues. Brown says that probably their only local date this year is coming up Friday, June 15 at the Piranha Club beginning at 9 p.m. And though it can be daunting to open for a nationally renowned act, Preul says nerves for her are high every time they play in public because she wants to put on the best show possible. Brown adds they are a band that has worked really hard to get where they are at today, and that time put in at the studio is the reason why fans enjoy each and every one of their performances.
Preul says opening for ZZ Top is an incredible opportunity for them, and they are looking forward to bringing their brand of fun to the crowd. Wild Ambition will be playing from 6 p.m. to 7:10 p.m. on June 30, and Brown and Preul say they are working to pare down to their very best songs for that shortened gig. Listen to your Carroll Broadcasting stations for a chance to win Shellabration tickets, or follow the link included below to purchase them.
____________________________________________
https://www.ticketweb.com/event/zz-top-austin-hanks-wild-rogers-sports-complex-tickets/8106585