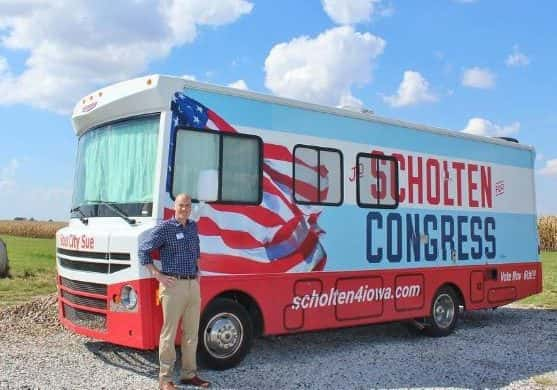 Pictured: J.D. Scholten stands next to his campaign RV, nicknamed Sioux City Sue.
Democratic Fourth District Congressional Candidate, J.D. Scholten, is traveling across northwest Iowa extensively in the final days before the Nov. 6 mid-terms. Scholten is challenging eight-term Republican incumbent, Steve King. According to Scholten, his campaign has a lot of momentum at this point in the race and the election will likely be decided by a very slim margin.
In a recent press release from King for Congress, the campaign highlighted a report from WPA Intelligence, a national political polling agency, that says King holds an 18-point advantage among likely voters in the district. Scholten points to a separate poll released earlier this week from Change Research that puts him only one point behind King, 45-44. Scholten says recent rebukes from Republican leaders, such as Steve Stivers, the chairman of the National Republican Congressional Committee, are a sign of waning support for King from his own party.
Scholten adds that his race is about more than just being an alternative to King. According to him, his goal is to be a congressman that looks out for the interests of the people and says that is a message that continues to resonate with voters.
He will be making stops across the district until the election in his RV, nicknamed Sioux City Sue. Today (Thursday), Scholten is traveling along Highway 18 from Rock Valley to New Hampton, and then tomorrow (Friday), he is visiting communities on the Highway 9 corridor from Lake Mills to Larchwood.