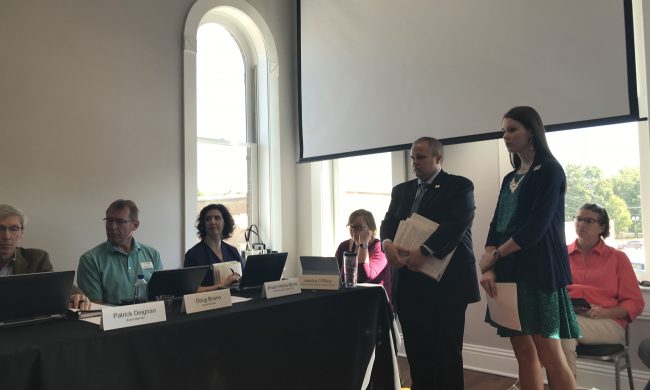 Photo: City Manager, Mike Pogge-Weaver, and Carroll Public Library Director, Rachel Van Erdewyk
On Wednesday morning, a delegation of city staff, Carroll Public Library Foundation members and supporters of the library renovation project made a trek to an Enhance Iowa board of directors meeting in Earlham to discuss a grant award. This time, there were no dramatic surprises, other than the Community Attraction and Tourism (CAT) committee's approval of a $491,292 grant for the project. The board's legal counsel, Kristin Hanks-Bents, says after the Aug. 8 meeting and the surprise lawsuit filed by Dr. Richard Collison seeking an injunction to stop the project, they needed the time to do their due diligence in determining if and how they could approve the city's grant request.
City Manager, Mike Pogge-Weaver, and Library Director, Rachel Van Erdewyk, presented the updated fundraising numbers to the board, revealing a new total raised by the foundation to date of $2,158,467. Pogge-Weaver also told the board that though the library bids came in at just over $20,000 above their estimated budget, the bid for the city hall part of the project and a bid for asbestos remediation came in under budget. This will allow them to shift the differences to the library side to more than cover the overage. Board member, Kyle Carter, says he is pleased that the Carroll proposal included language to protect the board from any losses, pending the outcome of the litigation.
He adds that Carroll has shown broad support for the project and he is looking forward to moving ahead. Emily Damman agreed.
Pogge-Weaver says they are humbled by the reaction of the CAT grant committee and the Enhance Iowa Board.
He comments that instead of putting a stop to their fundraising, the lawsuit actually seemed to have spurred their efforts. Van Erdewyk says just how important the library is to the community has shone through.
The city offices closed Thursday for their weekend move to their new location at 510 North Carroll Street in Suite 2. They will reopen on Monday, Sept. 17 for regular business hours at 8 a.m. The library will be closed Friday will not reopen again until Oct. 1 at their temporary location in the former WalMart building at 425 Highway 30 West in Suite 340.