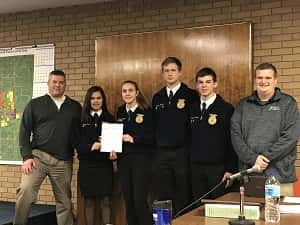 Saturday was the kick-off to Future Farmers of America—FFA—week and the Mayor of Carroll, Dr. Eric Jensen, made a special proclamation at the last council meeting. This year will mark the 90th anniversary of the organization, founded in 1928. Jensen said that the FFA and agriculture education provides a strong foundation for the youth of America and the future of the food, fiber and natural resources systems.
He added that the FFA motto of learning to do, doing to learn, earning to live and living to serve gives direction to these students who are taking an active role in the program.
Carroll FFA chapter advisor, Brady Eischeid, says they currently have 72 members from Carroll High School, Kuemper Catholic High School and Ar-We-Va High School, and that number is growing. Special events planned for this week include a game night tonight (Monday), staff breakfasts at Carroll High School on Tuesday and Kuemper High School on Thursday and the annual tractor and truck day on Friday, Feb. 23 that will culminate with a parade from 4 to 5 p.m.