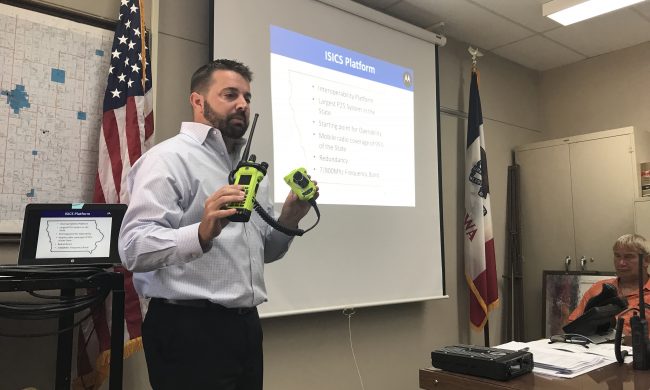 Photo: Brian Flynn, Motorola Senior Account Manager, shows the proposed mobile radios to be used in conjunction with the new statewide communications system
The Iowa Statewide Interoperable Communications System is set to go live this fall, and representatives from the Carroll City/County Communications Center and Motorola visited the Carroll County Board of Supervisors on Monday to discuss the new system. Director of the communications center, Jason Hoffman, said the current aerial, analog system used by first responders today was adopted in the late 1970s or early '80s and has outlived its functional life expectancy. First responders not only see a lot of interference, they must also change channels, moving between repeaters as they navigate throughout the county. The Federal Communications Commission (FCC) narrowed banding in 2012, which has further exacerbated connectivity issues and reduced coverage. He said they have also experienced some serious problems in the past several years. Christmas ice storms in 2009 resulted in power outages to several repeater sites. In 2014 electrical failures occurred at the Coon Rapids site due to water infiltration in the system that sat at the base of the water tower and a coaxial cable in Lanesboro rotted and fell off the tower at one point.
Hoffman added he wanted to make sure the supervisors realize some form of communication with the new system will be mandatory, but operating completely within it is totally voluntary.
Motorola Solutions was selected to contract with the state in the development of the new system. Senior Account Manager, Brian Flynn, Areas Sales Manager, Dan Pohl, and local representative, Bob Stephanie (sic), presented the options available to the board. Flynn said they would look to put up a tower site in Coon Rapids and add repeater equipment to a current tower in Manning to help fill gap areas and seamlessly transition from tower to tower without changing channels. The cost includes: the two, three-channel repeater tower sites; two dispatch consoles that connect to the state system; a three-site, one-channel VHF paging system utilizing the existing paging equipment; and 79 mobile radios with 22 repeaters to expand mobile usage outside vehicles. The total cost is over $4.1 million with a discount that brought it down to $3.98 million. In addition, there is a 10-year system maintenance and upgrade package at over $99,500 each of year. Supervisors asked Flynn about a lease option.
The system is guaranteed for 10 years, but they know it could last up to 15 years or possibly more. The supervisors did not make any decisions at this point and will continue to explore all available options.