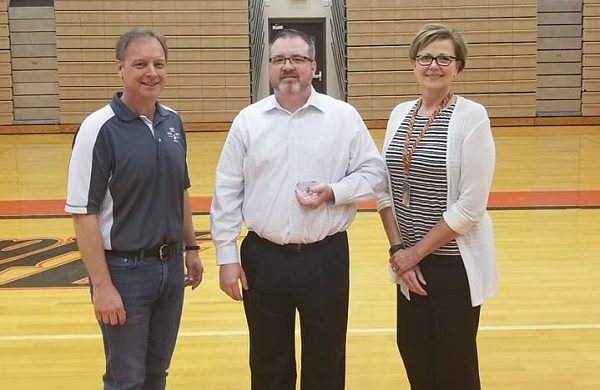 Pictured (L-R): John Ryan, Brian Tigges and Tammie McKenzie
A Carroll High School (CHS) instructor has been named an A+ teacher in Carroll Broadcasting's 2018 Teacher of the Year Contest. Brian Tigges, a social studies educator, is known for expecting the best from his students and making them look forward to school. Principal, Tammie McKenzie, says a recent school connectedness survey showed Tigges as one of the top staff members.
Tigges says he is humbled and surprised by the recognition. He feels as if there are many teachers among the staff that deserve the award.
He joked that there are days when he imagines having a different career but says his heart is dedicating to teaching.
Tigges joins Karen Mohr, a first-grade teacher a Coon Rapids-Bayard, as a 2018 A+ award recipient. South Central Calhoun Math Teacher, Donna von Glan was named Carroll Broadcasting's Teacher of the Year.