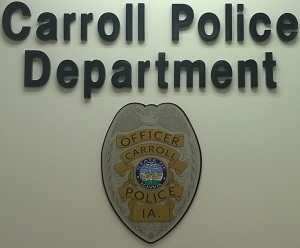 The Carroll Police Department is working to fill a Captain position that has been vacant since the retirement of Capt. Mark Heino in November of 2016. Chief Brad Burke told council members Monday night that during this process, they reviewed the job description and noticed some changes needed to be made.
Specifically, this includes a breakdown of the requirements for internal and external candidates. To be considered, internally an applicant must have fulfilled one of the following: at least two years at a sergeant rank; a minimum of six years of experience with the Carroll department; five years with the department and an associate's degree in criminal justice or similar field; or a minimum of four years and a bachelor's or master's degree in the same areas of study. External candidates must have been a sergeant for a minimum of two years and at least five years' experience with a police department in the state of Iowa. It was this last point that Councilman LaVern Dirkx questioned.
Chief Burke says there are specific reasons for the guidelines.
He adds that an out-of-state candidate would also have to be certified through the academy, so they would really be starting back at square one. City Manager, Mike Pogge-Weaver, adds that Chief Burke alluded to an applicable section of Iowa law.
This change was brought before the council, but Pogge-Weaver also asked that they consider developing a policy that will allow them to make job description changes at the administrative level. The council approved all changes and a copy of that document can be found below.