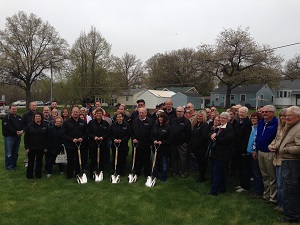 The Handlos Family, owners of Waspy's Truck Stop, held a groundbreaking ceremony Wednesday morning in Audubon to a room filled with city, county and business officials. Due to unseasonable cold weather, the affair was moved indoors to the Audubon County Economic Development (ACED) building. Troy Wessel, ACED President, told the packed house how excited the community is to have Waspy's coming to town.
Lawrence and Doris Handlos and their children, Brian and Beth, are from Audubon, and County Supervisor, Todd Nelsen, says true economic growth comes from local sources who are invested in the success of the community.
Waspy's will be located about one mile south of Audubon on Highway 71, and work is already underway at the site. The $18 million dollar facility is expected to be completed in 18 months and will create around 70 new jobs. ACED Executive Director, Sarah Gomez, says the impact will expand beyond Waspy's.
The new truck stop, once completed, will feature a convenience store, a 200-person restaurant, a car wash, truck wash, tire-repair shop, mechanic shop and a 30-room motel. A second Waspy's in Templeton is currently under construction and nearing completion.