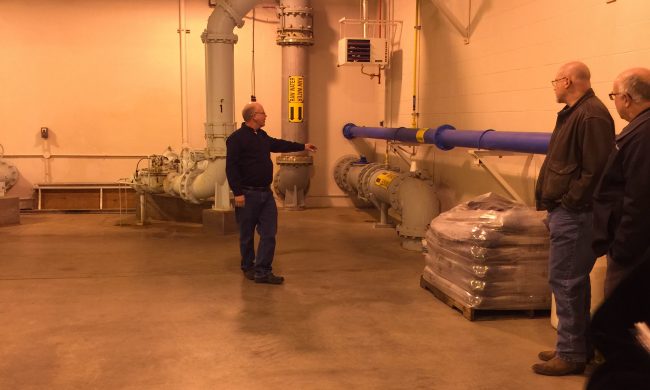 Photo: Terry Kluver, Carroll's Water Superintendent, describes to elected officials and city staff how water comes into the treatment plant, is filtered through two massive tanks, then treated and sent out to the one million gallon reservoir
Carroll's Water Superintendent, Terry Kluver, and his staff have been waiting for about a year and a half for the day that two new wells would come online. That finally happened on Monday night. Wells 18 and 19 were constructed not only to plan for future growth within the community, but also to help meet high demand times in the summer, when Kluver says the city could go through close to two million gallons a day.
Carroll city council members and some city staff were given a tour of the water treatment plant on Grant Road and a quick overview from Kluver on how the water is filtered, treated and then pumped out to the million gallon reservoir. Kluver explained that the plant has the capacity of about 3.2 million gallons a day, and said, by that time on Monday, the city had already used close to one million gallons. After the tour, it was time to go back to the office and to the computer that is the control center for the entire system. At about 5:26 p.m., Mayor, Dr. Eric Jensen, clicked a mouse on that computer program that brought the two wells online. These are really the eighth and ninth active wells in the city. In addition to well construction, there were mains run to connect the two wells into the system. Kluver says some work on the main transmission line was done in just recent weeks to wrap up this project.
The two new wells are located on Third Street, on the western edge of Carroll. Video of the wells going online can be found below.