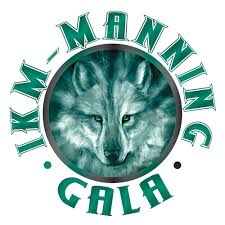 Co-chairs of the third annual IKM-Manning GALA, Megan Reis and Jeanne Stadtlander, are excited to be working on the education fundraiser that has grown over the previous two years. Stadtlander said she and Rose Miller discussed an event that they hoped would mirror the success of another popular Carroll County annual fundraiser.
The March 25th GALA will feature Dueling Pianos entertainment, a dinner catered by the Irwin Locker, live and silent auctions, and new this year, a raffle. Reis says the proceeds are used to help fund 21st Century skills programs at IKM-Manning Community School.
Stadtlander said the GALA has raised $50,000 the first year and $60,000 the second, but they aren't focusing on monetary goals as much as relationships.
Each year the committee selects an IKM-Manning district community to host the event. The first year was in Manning and the second in Manilla. This year, the GALA will be held at the Irwin Community Center. Reis says that even if people can't come to Irwin on March 25, there are other ways they can support the GALA.
Other ways community members can show their support of the GALA's efforts is by donating an auction item, becoming a business partner, sponsoring a STEM Festival or by become a supporter with contribution levels from $1 to $2,500 or more. GALA tickets are $25 per person, with a break for a $500 or more sponsorship level. These can be purchased from any GALA committee member, a listing of which is included below. Raffle tickets are one for $10 or three for $25 and are available at the Manning Pharmacy and the Manilla Times. More information from Reis and Stadtlander is also included below.
______________________________
GALA Tickets:
Dawn Brandt: 579-6799
Kaitlyn Christensen: 579-5037
Sherry Heuhn: 210-7148
Rod Hinners: 830-6143
Amy Keller: 579-6128
Zach Meiners: 579-4454
Rose Miller: 269-5605
Megan Reis: 830-2640
Jean Stadtlander: 830-3008
Taya Vonnahme: 790-9378
Beth Williams: 269-8510
For supporter levels, make checks payable to GALA/IKM-Manning School Foundation and send to IKM-Manning School Foundation, Box 342, Manning, IA 51455
Additional Information:
GALA Kickoff Event:
How the GALA came about:
Results of previous GALAs:
New ideas:
Vision for this year's event:
Why the GALA is held in different locations:
Where do the proceeds go?
How can people help if they are unable to attend?
What does this fundraiser mean to Reis and Stadtlander as co-chairs?
What do they want people to know?