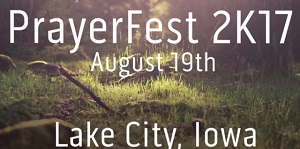 A Lake City teenager is in the early stages of putting together a Christian-themed music festival and is looking for some help to make the event possible. Fourteen-year-old Dausin Olberding is a member of the Carroll First Assembly of God and decided our area lacked an event for Christians to gather to enjoy faith-filled music. This was the start of PrayerFest 2K17
Olberding is still raising money to make the event a reality and estimates the costs will fall between $5,000 and $6,000. Three musical acts have already been booked: Names Without Numbers, Dave Owens and J. Crums. Olberding expects the final tally to have many more names.
Olberding has already established two corporate sponsors for PrayerFest but still has a long way to go. He says an account at any United Bank of Iowa, under the name Your Lake City PrayerFest, is in the process of being set up for people to help support the event and has even set up a webpage with information on the prospective festival. Olberding says PrayerFest will be for any and all types of people.
The event is tentatively scheduled to take place on Saturday, August 19th in Lake City. For questions about PrayerFest, contact Olberding at 712-210-1352. Links to stay updated with the event's progress, to donate or to become a sponsor can be found included below this story.
_____
http://yourprayerfest.weebly.com/