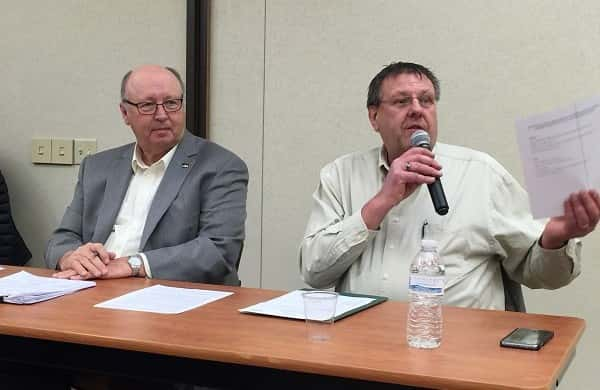 The State of Iowa is facing a $131 million shortfall in the 2017 fiscal year budget and is pulling nearly $106 million from the emergency fund to fill in the gaps. At the Carroll Chamber of Commerce Legislative Forum at Des Moines Area Community College (DMACC) on Saturday, District 12 Representative, Brian Best, and District 6 Senator, Mark Segebart, told constituents how future budgets will look to reduce the shortage. Segebart says the shortfall originated when revenues were vastly overestimated.
By pulling from the emergency funds, the State can avoid making additional cuts this year. Segebart remarked that government spending, once established, is difficult to diminish.
The emergency fund exists for situations like this so the government can carry budgets they would not otherwise be able to support. Best told attendees the State will need to put money back into the fund in the coming years.
He cited several public safety departments as areas that he feels cannot take any more cuts.
Both houses are working to find cuts that eliminate the budget deficit and allows for a method of paying back into the emergency fund in FY 2018. No budget plan has been set out as a clear favorite, and the Iowa General Assembly is expected to continue exploring budgeting options in the coming weeks.