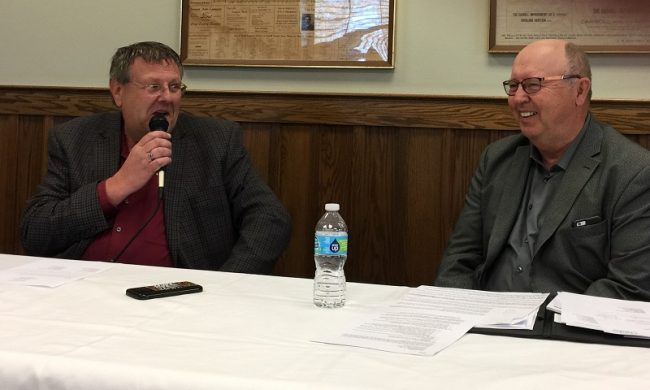 The 86th Iowa General Assembly was, according to Senator Mark Segebart, one of the most productive legislative sessions in their history, and certainly one of the most in his five-year term. Both Segebart and 12th District House Representative, Brian Best, talked with Carroll County constituents at the wrap-up Chamber of Commerce Legislative Forum on Thursday afternoon.
These were just a few of the bills Segebart said the legislators worked on along with others to improve the ability of schools to more efficiently utilize their silos of money, protecting Iowans on the roadways and expanding personal liberties and the sanctity of life. Of the more than 1,600 bills that were sponsored this year, 174 were passed and 120 of those have been signed by Gov. Terry Branstad. One of the bills that Best says he is most proud of having supported was the passing of the cannibidoil bill.
Best adds that he is pleased to see a broadening in the listing of diseases for which cannibidoil can be prescribed as well as the ability for providers to adapt those prescriptions to be formulated to exactly what the patient needs. Segebart said he was happy to see the passing of legislation that helps with mental healthcare funding.
And when it came to bills that the legislators would like to continue working on, Best says even though the texting restrictions passed, he doesn't think it went far enough.
Best believes that the bill needs to be expanded to hands-free, and Carroll Broadcasting will bring you more from Representative Best in an upcoming broadcast on that subject.