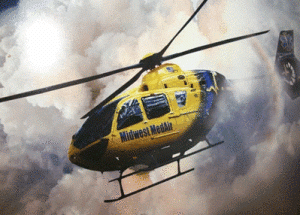 Midwest Med-Air in Audubon is inviting the communities they serve to join them in an open house tomorrow (Tuesday) at their recently opened staff living quarters and hanger. Med-Air moved their single-pilot EC135 AirBus helicopter into their completed hanger at the Audubon Airport last August and completed work on their staff living quarters Feb. 1. The open house begins at 4 p.m., and Base Manager, Doyle Simonson, says their operational region is quite large.
A free meal will be provided by Med-Air throughout the entire event. Attendees will be able to see the newest buildings at the facility, learn more about the service helicopter and get to meet the life-saving staff at Med-Air. According to Simonson, a guest speaker, Dr. Juan Asensio, professor and chief of trauma surgery at Creighton University, will give a lecture on "Recent changes in Casualty Care as a result of the War in Afghanistan."
Simonson says the service they provide gives patients high-quality care in the most critical moments.
Two hours of Continuing Education Units (CEUs) will be offered by Creighton University Medical Center for healthcare professionals attending the lecture and guests have a chance to win a helicopter ride, a year-long Air Ambulance membership and more.