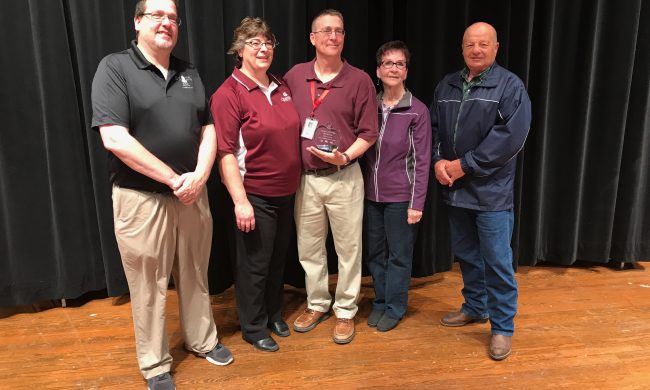 Photo: Jim Blankman (center) was presented the Teacher of the Year Award by Carroll Broadcasting during a special assembly Friday morning. He is pictured here with family members (from left): brother, Jeff Blankman; wife, Paula; mother, Patricia Blankman; and stepfather, Richard Siemer
More than 100 entries flooded into Carroll Broadcasting for the Teacher of the Year Award, and several local educators assisted in selecting the winner, middle school science instructor, Science Technology, Engineering and Math (STEM) teacher and First Tech Challenge (FTC) coach at IKM-Manning Schools, Jim Blankman. Blankman says he is still a little stunned after the award presentation.
For Middle School Principal, Sharon Whitson, this is an honor for the entire district, but she was not surprised that Blankman rose to the top of that list of nominees.
The passion Blankman has for the profession and his commitment to the kids makes him one of the most respected instructors among his peers, as well as the parents and students in his classroom. But teaching was not Blankman's first career choice.
And, Whitson adds, Blankman is one of those team members who is an inspiration to their colleagues.
Blankman received the award at the IKM-Manning School during a special assembly this (Friday) morning. The school also received $500 in Blankman's name for the entire staff to celebrate this honor.